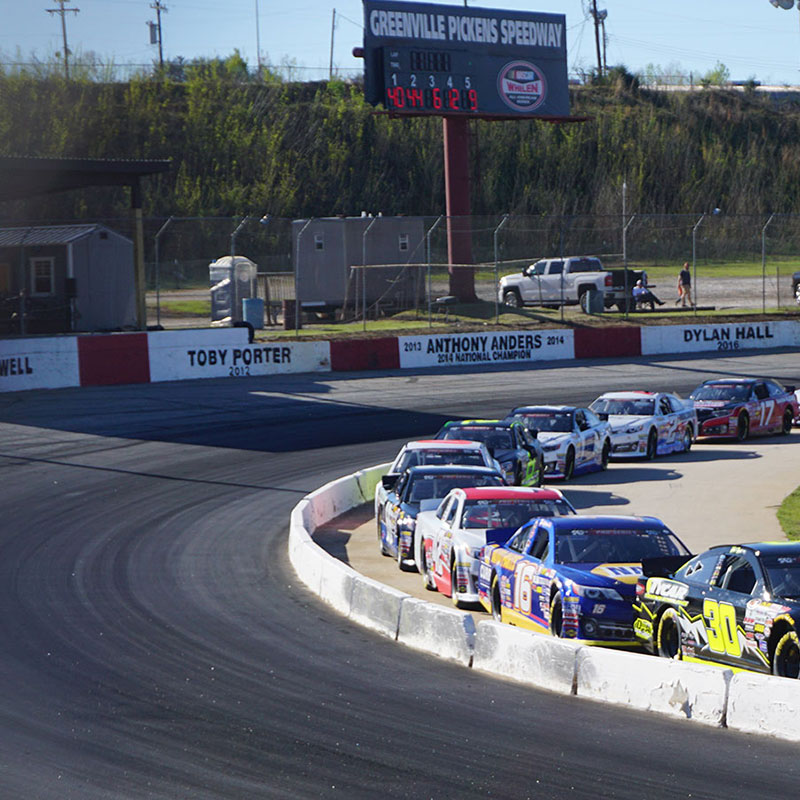 Track Champions: The who's who of Greenville Pickens Speedway
Placing the names of the track champions on the wall never crossed Pete or Tom Blackwell's minds until the mid-1970's. According to Tom Blackwell, a car owner jokingly came up to them (Pete and Tom) and said they should put the track champions on the back-stretch wall. Pete and Tom took the advice and the "Wall of Fame" tradition was started. Little did car owners realize that the tradition and history which started out as a joke is now the envy of many drivers in the country.
Track Champions from 1957 to today!
Grady Hawkins 1957
Elmo Henderson 1958
David Pearson 1959
Floyd Powell 1960
Floyd Powell 1961
Floyd Powell 1962
Dub Nelson 1963
Jeff Hawkins 1964
Ralph Earnhardt 1965
Ralph Earnhardt 1966
Jeff Hawkins 1967
Jeff Hawkins 1968
Jeff Hawkins 1969
Jeff Hawkins 1970
Johnny Allen 1971
Butch Lindey 1972
Don Miller 1973
Don Miller 1974
Bob Jarvis 1975
Don Sprouse 1976
Buddy Howard 1977
Buddy Howard 1978
Buddy Howard 1979
Buddy Howard 1980
Donnie Bishop 1981
Gene Morgan 1982
Donnie Bishop 1983
Donnie Bishop 1984
Roy Chatham 1985
Donnie Bishop 1986
Larry Hines 1987
Robert Pressley 1988
Larry Ogle 1989
Marty Ward 1990
Marty Ward 1991
Donnie Bishop 1992
Randy Porter 1993
Donnie Bishop 1994
Mardy Lindley 1995
Steve Howard 1996
Dexter Canipe 1997 (National Champion)
Pete Silva 1998
Dennis Southerlin 1999
Gene Morgan 2000
Pete Silva 2001
Marty Ward 2002
Marty Ward 2003
Kenneth Headen 2004
Blair Addis 2005
Randy Porter 2006
David Roberts 2007
Marty Ward 2008
Roger Powell 2009
Marty Ward 2010
Randy Porter 2011
Toby Porter 2012
Anthony Anders 2013
Anthony Anders 2014 (National Champion)
David Roberts 2015
Dylan Hall 2016
Will Burns 2017
Trey Gibson 2018
Taylor Satterfield 2019